There seems to be only one type of consumer goods in which retailers don't even attempt to sell love to men the world of fiction literature. They apparently assume that grown men must have the same preferences as the boy at the beginning of The Princess Bride–impatient to rush past the "mushy stuff" and on to the action and the sword-fighting.
But the truth is, lots of men appreciate good romantic fiction. They probably don't load their bookshelves with all of the new romance novels. Those books are still mostly written for women and targeted towards women, and therefore  mostly read by women. But a significant proportion of men's literary favorites do, in fact, have a love story at their core.
A recent survey polled men to ask what their favorite romantic stories are, and why. The list of those favorites just might surprise you. These favorites are listed by genre, to cover a variety of literary tastes. And since reading is quite a romantic activity, you might want to add the titles not only to your reading list, but also to hers!
Favorite Classic: The Great Gatsby by F. Scott Fitzgerald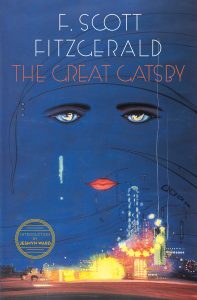 This perennial syllabus staple handily led the list of men's favorite classics. Though essentially a tragedy about social inequality and the decadent underbelly of the American Dream, it also includes a love story. Men may easily identify with the main character when it comes to the intense feelings a man feels towards his first true love. Poll respondent Paul explained, "It's really easy to relate to Gatsby's feelings…But hopefully, most men are able to avoid following up on those feelings the ways that Gatsby does,".
Favorite Comedy: the Jeeves and Wooster series by P. G. Wodehouse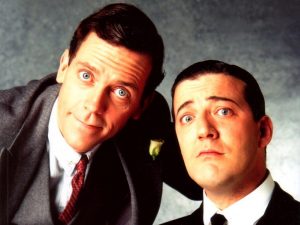 Some readers may disagree that these books are actually anti-romance, as Wooster attempts to flee his fiancées. But the escapes are often made only through restoring other relationships. The Genius Butler and his sidekick, the Wealthy Gentleman, make their way throughout England and its colonies creating chaos, strengthening relationships and, yes, stealing cow creamers. In some ways, they're the quintessential matchmakers.
Besides, the books are just fun to read. As poll respondent Joe said, "Wodehouse is the only satirist that appears to like his characters instead of despise them." This affection towards his characters helps all readers feel less cynical about romance as well. Joe continued, "Even when you're rooting for Bertie to escape his aunts' most recent engagement scheme, you can't not root  for Bertie to help bring other couples in the stories together." Another respondent, Tom, said, "The characters that cross his path are so  fun and odd that you can't stop yourself from cheering when they find happiness."
Favorite Fantasy: The Kingkiller Chronicle series by Patrick Rothfuss.
Perhaps author Rothfuss put it best himself: "The truth is that the world is full of dragons, and none of us are as powerful or cool as we'd like to be. And that sucks. But when you're confronted with that fact, you can either crawl into a hole and quit, or you can get out there, take off your shoes, and Bilbo it up." That's how fans describe these books, which have sold more than 10 million copies. Lin-Manuel Miranda has signed on as executive producer to adapt the Chronicle for television.
Author Rothfuss is among the-most successful fantasy writers alive. But you'll find that this series is not your typical Epic Fantasy Journey. You'l find much more earnestness here in the story of Denna and Kvothe, two frightened kids who set out to find love and broke the world. Poll respondent Peter said, "These stories show that if broken people find each other, they can together create moments of incredible beauty. They learn that their failings and their flaws can be as precious as their strengths and gifts are."
Favorite Graphic Novel: the monthly Saga series written by Brian K. Vaughan and illustrated by Fiona Staples.
Saga books regularly lead comic book sales and often land on The New York Times bestseller list. But it may surprise you that it turned up on this list of favorite romances. The main characters aren't super-heroes in capes. They're a star-crossed married couple who, with their young daughter, flee warring extraterrestrials through space. It's rare for marriage to be depicted so positively in fiction, and especially so in such a beautiful and honest way. The series may make even the commitment-phobic among us start to consider saying "I do."
Honorable Mention: any of the six novels by Jane Austen. Yes, really!
For high-school boys, Jane Austen is the quintessential "loathly lady" they're forced to read in literature class. Austen appears to care too much about planning fancy balls and staging  plays with her houseguests. But men who give her another chance later in life, whether due to self-generated intrigue or from watching a movie with a woman, will likely discover one of the sharpest wits to ever use the English language. Jane Austen is the only author who every adult male reader will eventually fall for.
Besides, most men easily relate to Austen's awkward Mr. Darcy. He made an awful impression by desperately seeking any excuse to avoid dancing. But in defense of Mr. Darcy, most men will agree that they don't like venturing out of their comfort zones, and dancing is definitely outside of their comfort zones.